Travel
Stories, Croatia – Richer in new Experiences
There are few countries that can provide you with unforgettable authentic experiences throughout the year. Croatia is a country that offers just that. The clear blue sea, green pine forests and fragrant vineyards, beautiful pristine nature, picturesque views, and centuries-old palaces and summer houses are timeless, enriching experiences. These are places where you achieve the balance of mind and body, while traces of a thousand-year history invite exploration.
Hotels within Stories, a chain of unique Croatian hotels, are located in hidden bays and on rocks above the sea, surrounded by a picturesque archipelago of islets, among century-old olive groves, in the preserved remains of a medieval tower, in the very heart of the city or in town palaces and castles where once emperors and noble families resided.
The unique story of each hotel is written in its architecture and exterior, in the sunkissed stone or in the centuries-old olive tree that grows under its windows. You can feel the past in them, but also find inspiration for writing new pages. They invite guests to tell their story about their stay as true protagonists. In each of these places, you are invited to immerse yourself in unforgettable authentic local experiences while enjoying rare wines and delicious food and breathing in the fresh air of scented salt permeated with the aromas of Mediterranean herbs. Here you become enriched with new experiences accompanied by pure, elegant, and authentic luxury, ready to tell your new story.
Write Stories of your own with Stories and Mastercard®.  Stories hotels welcome Premium Mastercard cardholders with a variety of benefits that are different from hotel to hotel. Benefits can include: early check-in and late check-out (if available), upgrade on arrival (if available), welcome drink, freeparking, a complimentary bottle of wine or a fruit basket.
For redeeming your benefits please use your Premium Mastercard and a code STORIES23 while making a reservation. Offer is valid until December 31,2023.
In this article we proudly present Hotel Adriatic, Design Hotel Navis, Heritage Hotel Life Palace, Kazbek Boutique Hotel, Hotel San Rocco and Hotel Bastion.
HOTEL ADRIATIC
ART BOUTIQUE HOTEL LOCATED IN ROVINJ'S HISTORIC CENTRE
This chic boutique hotel is located in Rovinj's historic centre and is entirely inspired by artwork which was created exclusively for the hotel, creating a compelling art collection. Over hundred unique works of art are exhibited throughout the hotel and such often being the topic of conversation over a glass of wine or an object of admiration of the hotel visitors. The cosy yet intimate atmosphere of the Brasserie Adriatic is perfect if you want to enjoy our trendy dishes inspired by the locality and the influence of the French Riviera or just relax with a glass of whiskey or wine accompanied by the view of the town's main square and harbour. Hotel Adriatic is one of the few hotels in Croatia in which the artwork was created exclusively for the hotel, creating a compelling art collection. Over hundred unique works of art are exhibited throughout the hotel and such often being the topic of conversation over a glass of wine or an object of admiration of the hotel visitors.
GOURMET EXPERIENCE
LEISURE EXPERIENCE
Pebbly and rocky natural beaches: a 5-minute boat ride away on the island of St Catherine
Amenities of the Grand Park Hotel Rovinj wellness & spa at guests disposal, including the use of sun loungers and parasols, as well as indoor and outdoor pools.
Bicycle hire
One of the largest selections of whiskey in Croatia
NOT TO BE MISSED
Visit the Pula Arena
Explore the Brijuni Islands
Meet local wine and olive oil producers
Explore Hum – the world's smallest city
Go truffle hunting
ROOMS AND SUITES
14 rooms and 4 suites: all unique, individually decorated with distinctive artwork
CONTACT
A: Obala Pina Budicina – Riva PinoBudicin 16, 52210 Rovinj
T: +385 52 808000
W: www.maistra.com/properties/hotel-adriatic
HOTEL NAVIS OPATIJA
Design Hotel Navis is an exclusive 5-star hotel, located in an extremely attractive location in Opatija; 1.5 km from the city center and only a few meters from the sea. The hotel has a unique, modern and original architecture and design, designed by one of the most famous Croatian architects and offers 44 accommodation units: 40 Superior rooms and 4 Superior Suites. Each room and suite has a balcony and a beautiful view of the Preluk bay and the nearest Kvarner islands. An equally impressive view is attainable from the terrace of the restaurant and from the SPA Navis sunbathing area, where our valued guests can further relax and unwind with numerous revitalizing massages and treatments. From the private mooring and beach in front of the hotel, it is possible to rent SUPs (Stand up Paddle Boards), kayaks and related equipment, offering also the possibility of taxi boat transportation, liner and excursion boat tours, and boat and yacht rentals.
"We are so proud on what we have achieved in these last 8 years. Through our individual aproach to every person, our respected guests have recognized Design hotel Navis as one of the most beautiful and one of the best hotels on the Adriatic shores, with specific location and extraodinary view."
LEISURE EXPERIENCE
Top prestigious gourmet restaurant Navis with Michelin guide recommendation
SPA Navis (outdoor heated pool, sun deck, Finnish sauna, Turkish steam bath, relaxing zone), private beach and mooring
Stand up paddle Board (SUP), kayak and accompanying equipment rent
A taxi boat transport, line and excursion boat trips, boat and yacht rental
Dog friendly hotel
NOT TO BE MISSED IN 2024
An impressive, multipurpose hall on the roof of the hotel with breathtaking view
270 m2 able to accommodate a maximum of 150 people
Possibility to separate the hall into two smaller, separate units of 170 m2 and 100 m2
Cigar and lounge bar
Fitness room and gym
ROOMS AND SUITES
44 rooms in total
4 Superior Suites and 40 Superior Rooms
All with balcony and stunning sea view
4 Superior Interconnected Rooms
LOCATION
An exclusive 5* hotel, located in an attractive location
1,5 km away from city center 15 km away from Rijeka center 48 km away from the nearest Krk airport
CONTACT
A:Ivana Matetića Ronjgova 10, 51410, Opatija
T: +385 51 444 600
HERITAGE HOTEL LIFE PALACE ŠIBENIK
A HISTORICAL LUXURY PALACE WITH EXCLUSIVE INTERIOR DESIGN
Heritage Hotel Life Palace is a 4-star city hotel situated in the heart of the historic Mediterranean city of Šibenik in central Dalmatia. The elements of the 15th-century Marenci Palace are perfectly integrated into the exclusive interior of this city hotel, which pays homage to the famous city of which it is a part. The charming town square and a lovely terrace are a great scenery for outdoor gastronomic delicacies. Heritage Hotel Life Palace is an ideal starting point for exploring the city and its surroundings. A central location and unique design make this hotel an oasis of luxury for a weekend getaway from everyday worries and stress, but also an excellent choice for your business stay.
"Travel is the only thing you buy that makes you richer. We dedicate ourselves to each guest, and this is how we play this role in making the guest richer. From the first contact and during their stay in our hotel, our team tends to make their experience smooth and joyful. To find a place in the competitive hospitality world, small brands like ours tend to find their place in customer's minds by letting them know each guest counts. Our mission is to exceed customer expectations by providing a highquality service with an individual approach."
ROOMS & SUITES
15 elegant rooms
1 executive suite with balcony
1 presidential suite on the top floor
WELLNESS EXPERIENCE
Wellness oasis on the rooftop
Finish sauna, jacuzzi, two loungers
Massage & beauty treatments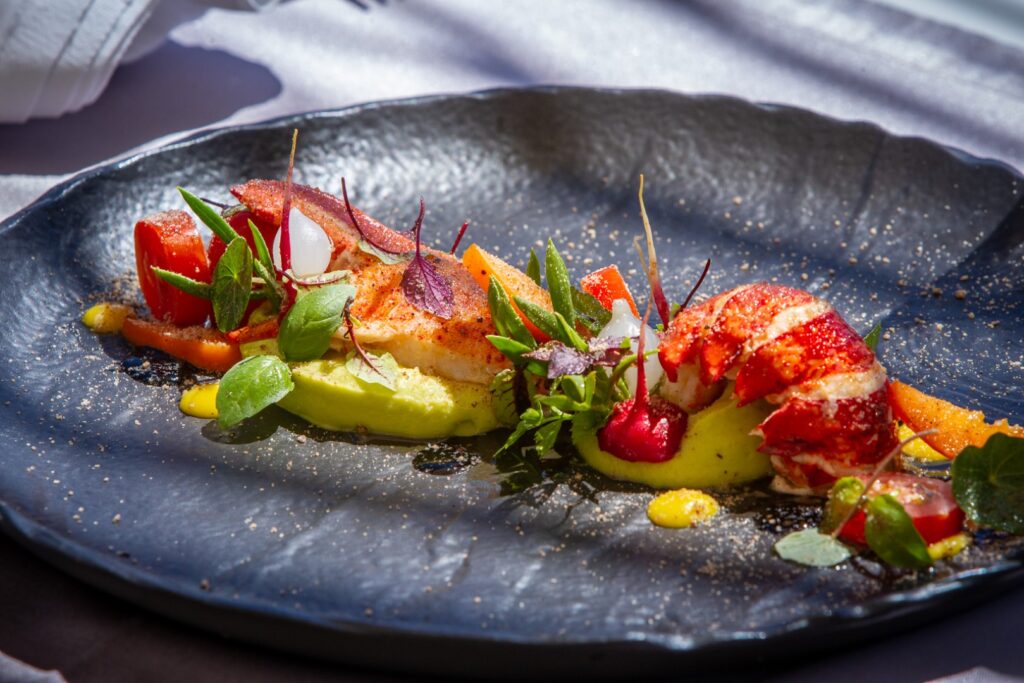 GOURMET EXPERIENCE
Café with selected desserts, cakes and pastries
Charming hotel terrace
Outdoor gourmet events
Cathedral of St. Jakov
Museum of the City of Šibenik
Monastery of St. Lovro
Fortress of St. Mihovil
National Park Krka (20 min by car)
Boat trip to the Kornati National Park
LOCATION
Split Airport (60km)
Zadar Airport (77km)
CONTACT
A: Ulica kralja Tomislava 12, HR22000 Šibenik
T: +385 22 219 005
KAZBEK BOUTIQUE HOTEL
LAID-BACK LUXURY IN DUBROVNIK'S HISTORICAL SUMMER RESIDENCE
Dubrovnik is a popular tourist destination known for its UNESCO protected old town. However, during the Republic era, the city's nobility preferred spending their leisure time outside the walls in elegant summer residences. Nowadays, these villas still stand and offer a glimpse into a more refined and leisurely lifestyle. One such villa is Hotel Kazbek, situated on the Lapad peninsula's coast in the safe and sheltered port of Gruž. The hotel offers a luxurious and relaxed experience, with a swimming pool and the Adriatic Sea just a few meters away. The restaurant was once a medieval shipbuilding site and now serves excellent food and regional wines. Despite being close to one of the world's largest tourist destinations, Boutique Hotel Kazbek provides a peaceful and intimate atmosphere, allowing visitors to explore Dubrovnik's slower and more private side. It's a perfect place to experience laid-back luxury in Dubrovnik's historical summer residence.
"The true boutique experience embraces unique design, intimate laid-back atmosphere, personal approach and in our case additionally historical background. But what is most important about boutique is that you make your guests say that staying with you feels like a visit to a good friend. And that they keep returning…"
LEISURE EXPERIENCE
Outdoor pool with jacuzzi and bar
Sauna
Balcony terrace overlooking Marina and Gruz bay
Cafe salon
Courtyard terrace
Motor boat for private tours
NOT TO BE MISSED
UNESCO protected Old Town Dubrovnik
Island hopping
Gastro experience with wine and oyster tasting
Dubrovnik countryside with eco farms visits and cooking classes
EXCLUSIVE RENTAL:
Intimate weddings
Family or friend reunions
Board meetings
Small incentive group
ROOMS AND SUITES
11 superior rooms and 1 Deluxe
1 Suite
LOCATION
Dubrovnik airport (22 km)
Split airport (245 km)
Tivat airport (MNE, 89 km)
CONTACT
A: Lapadska obala 25, 20 000 Dubrovnik, Croatia
T: +385 20 362 900
HOTEL SAN ROCCO ŠIBENIK
EXPERIENCE THE CHARM OF CENTURION FAMILY HERITAGE
Istria has been a special part of the Adriatic since the old times. The unique, tranquil beauty of the countryside and the fertility of the land have made it possible for the peninsula's inhabitants to thrive independently of the sea. And that is why small, secluded, picturesque places and estates exist, not far from the coast, but nestled among the richer, greener beauty hidden in Istria's inland. Brtonigla is an idyllic example of a small, historic, Istrian town, and the San Rocco Hotel is an idyllic example of a picturesque, peaceful, beautiful Istrian estate. San Rocco is a family estate and has been run by the Fernetich family for over 160 years. The olive grove surrounding the hotel has thrived for over a century and was planted by the Fernetichs' greatgrandfather.
"Me and my Family belived in the restructuration of the old Family estate while opening this charming hotel, because of love for this area and for what we belive to be magical places, because of our unlimited confidance in its future and the evaluation of area 'heritage . It is our desire to revive our guests the true values of this charming place and its rich history"
FOOD EXPERIENCE
Restaurant San Rocco is member of JRE association
Michelin recommended
Focus on zero waste
Food from local farmers and our garden
Producer of Extra Vergin Olive Oil San Rocco
Guided tasting of olive oil for the guests
LEISURE EXPERIENCE
Indoor pool, outdoor pool, sauna, relax zone
Olive Oil massages
10000 m2 garden surrounded by olive trees
15 bikes
E-bikes
Truffles hunting
Wine tasting and visits of Winery
MEETINGS & EVENTS
Meeting room up to 15 pax
Small event for up to 40 pax
ROOMS AND SUITES
LOCATION
Trieste Airport (92 min)
Pula Airport (57 min)
Venice Airport (2 hours)
CONTACT
A: Heritage Hotel San Rocco
T: +385 52 725 000
HERITAGE HOTEL BASTION
THE ORNAMENT OF ZADAR
The tiny town of Zadar, sheltered behind its city walls, at the edge of the Adriatic, exercises its many charms: tiny cobbled roads, ancient ruins and treasures from the Renaissance await the visitor. Hotel Bastion was built in this historic centre, at the tip of the peninsula, on the remains of a former 13th century Venetian mediaeval fortress. The town's main monuments are very close by, including the sea organs. This charming hotel offers elegant rooms, a cosy bar, a spa which has retained some of the original fortress walls, and restaurant with delicious Mediterranean cuisine that can also be served on the terrace, in the shade of large parasols.
"Touchable history, unique gourmet and spa experience is what this hotel is all about. Built on the remains of the 13th century Venetian fortress, part of UNESCO world heritage, Hotel Bastion is a perfect place to discover ancient city of Zadar, a city with rich and lively past, surrounded by 5 national parks. Specially designed to combine tradition and modern times, it is full of unique emotion, with warm hearted people who provide a sence of family home."
LOCATION
Hotel: located in the old, historical city center
Airports: Zračna luka Zadar (Intl) 12 km
Ferry Port: Gaženica 3 km
Main bus station: 2 km
ROOMS & SUITES
19 Rooms
4 Junior Suites
4 Suites
NOT TO BE MISSED
Old city center
Roman Forum & St. Donat Church
Sea Organ
Greeting to the Sun
Museum of ancient glass
Museum of 2 palaces
Green & Fish market
CONTACT
A: Bedemi zadarskih pobuna 13 23000, Zadar, Croatia
T: +385 23494950