Real Estate
The rise and rise of branded residences
By Kieran Kelleher, Owner Dream Estates Croatia / Montenegro – Savills

Branded residences, as a property sector, has proved to be incredibly resilient in the face of global uncertainty and change. The sector has not only survived the disturbance but continues to thrive. Over the past 10 years, the sector has grown by over 150%, and the pipeline of future branded residences remains strong with future projects set to double current supply offerings over the next 5 years. The global distribution for branded residences is also continuing to expand, with brands looking for new locations to grow their portfolios.
Although there is no single industry definition, but at its core, a branded residence is a residential property available for purchase on the open market that is affiliated, usually by design and servicing, to a well-known global hotel brand. This excludes traditional serviced (rental) apartments, although owners of branded residences can rent out their own properties. The most significant factor in delivering a branded residence versus the traditional block of apartments model, is that a branded residence, purchased by an investor / user, and leased back to the hotel, will contribute a minimum of USD50,000 to the GDP of the country, each year, compared with the standard apartment sale, which delivers less than 10% of this sum, per annum. In addition, the country increases its stock of 4 / 5* hotel product, thereby increasing the attractiveness of the destination, to a higher spending tourist.
Brand association instils buyer confidence through the assurance of a high level of service and usually an exceptional amenity offer. Buyers aren't the only beneficiaries. There are significant advantages for developers and the brand themselves as well as are outlined below:
In our region, Montenegro was the first country that really recognised the immense benefits of branded residences within mixed use resorts. In 2013, the then Ministry of Sustainable Development and Tourism released the 'Condo and mixed use hotel' law, enabling and encouraging developers to deliver branded residences as part of 4 / 5* hotel's.
The law, in essence allowed real estate developers to sell a portion from 50-100% of the hotel stock, as freehold properties, with reduced VAT rates during construction. The developer in return, contracted with the government to appoint an international hotel brand to manage and operate the property for an extended period of the year. In turn, the sold stock enters the leaseback program, whereby the purchased property becomes stock operated by the hotel. Owners of the properties receive a percentage of the income and some usage right also.
This was one of the main game changers for the Montenegrin property and tourism markets – which positioned Montenegro tourism on the world map and secured its place as one of the fastest growing tourism destinations in the world. Everyone was a winner – the country with huge increase in 4 / 5* hotel stock, developers with early cash flow, and the local community also, not only from the number of high quality jobs but also the effect the developments had on the price of local real estate. For instance, in Tivat, which 10 years, recorded the lowest price per m2 for property on the Adriatic to today recording one of the highest, is singularly attributable to 'the Porto Montenegro effect' with the arrival of Regent Hotels and their branded residences and more recently, the Siro brand, also within the new village. Montenegro has now expanded the model to the north of the country with the arrival of Swissôtel in Kolasin.
Serbia is now firmly also on the branded residences map, with the arrival of The St. Regis. Croatia has failed to grasp the opportunity and also has the added complexity, that much of the large lands available to developers are won at tender which provides only a leasehold option for the real estate, which is a significant turn off to potential buyers. Other branded residences in the region are sold freehold. All eyes are now on Albania who has high aspirations to follow the success in Montenegro.
The regional map below shows the growth of this real estate concept in our region.
Montenegro
1. Regent Porto Montenegro, Tivat, Montenegro – Hotel Operator: Regent, InterContinental® Hotels & Resorts – Status: Fully Operational
2. One&Only Private Homes, Herceg Novi, Montenegro – Hotel Operator: Kerzner International – Status: Fully Operational
3. SIRO Boka Place, Tivat, Montenegro – Hotel Operator: Kerzner International – Status: Opening in 2024
4. AMMA Resort, Bar, Montenegro – Hotel Operator: InterContinental® Hotels & Resorts – Status: Opening in 2024
5. Swissotel Resort Kolašin, Montenegro – Hotel Operator: Swissotel, Accor – Status: Opening in 2023
6. Janu, Budva, Montenegro – Hotel Operator: Janu, Aman Resorts, Status: Opening in 2024
Serbia
7. The Residences at The St. Regis Belgrade, Serbia – Hotel Operator: St. Regis Hotels & Resorts, Marriott – Status: Opening in 2024
Croatia
8. Kempinski Residences, Istria, Croatia – Hotel Operator: Kempinski Hotel Adriatic, Kempinski – Status: Fully Operational
9. Falkensteiner Residences Senia, Zadar, Croatia – Hotel Operator: Falkensteiner Hotels & Residences – Status: Fully Operational
10. The Four Seasons Kupari, Dubrovnik, Croatia – Hotel Operator: Four Seasons Hotels & Resorts – Status: Opening in 2025 (TBC)
Emerging markets, such as our region, are set to benefit with brands looking to expand their respective global footprint to new markets seeing high levels of economic growth and wealth generation. Other key locations for brands can be found in emerging cities and resort locations, particularly in Asia, South America, and the Middle East, where new high-net-worth buyers are looking for primary residences and second homes within branded schemes. New players are entering the market, particularly from nonhotel brands. Though the space is dominated by luxury hotel brands, other chain segments continue to grow and the sector continues to diversify to cater to different buyer needs in vastly different geographies. Younger buyers are becoming a growing customer base for brands, driving change in amenity and service offerings provision globally.
Developers and brands are working handin-hand to deliver branded residence schemes across all geographies, from global cities to emerging markets to resort locations. Built to high specification and promoting brandspecific lifestyles, these developments are the product of intense collaborations over significant periods of time. Sustainability is becoming a key element for buyers, and as a result, developers and brands are implementing measures to mitigate their environmental impact and increase health and wellness across their schemes.
Though branded residences originated in North America, brands are increasing their global presence across all geographies. Today, there are 640 schemes, accounting for nearly 100,000 units, operating across every continent, save Antarctica. The growth of the sector is set to continue apace, with supply levels forecast to exceed 1,100 schemes by 2027, nearly doubling current supply levels. In the Middle East and Asia Pacific, growth hotspots, both in terms of pure economic growth and wealth creation, are attracting more interest and development from global brands. The regions have seen 400% and 216% increases, respectively, in their levels of supply of schemes over the last decade. Our region will also see significant growth in branded residences. Four Seasons in Dubrovnik will offer branded residences as will most of the greenfield sites along Croatia's coastline (although the law will need clarification on the perpetuity of the lease issue. There is significant pipeline stock, primarily in Montenegro and elsewhere.
Who are the key players?
The diversification of the branded residence space isn't limited to geographic diversification. The sector has evolved from a market dominated entirely by hotel brands to a diverse combination of hotel and nonhotel brands in the sector. Parent companies and parent groups, with large numbers of brands under their umbrellas, continue to compete for market share and brand recognition. Marriott International remains comfortably atop the rankings for hotel parent companies, where the company has been since 2002. However, in recent years, there have been rising stars and new entrants into the market both in terms of type and location of the parent brand. Accor, for example, ranks third by number of completed properties in 2022, rising from fifth place in 2021. This growth is expected to push it into second place, behind Marriott International, when factoring in pipeline supply at the end of the forecast period. Non-US brands such as Emaar and Banyan Tree have risen to become global contenders. As more residents of regions outside North America and Europe move up the wealth ladder, there will be increasing demand for branded product which can cater to their needs. For non-hotel brands, there is more activity and jostling for position compared to the hotel parent brands. YOO remains top of the table now and through the pipeline forecast period. Several other brands such as Mahindra (Pininfarina), LightArt, and DAMAC (Roberto Cavalli) will ascend through the rankings during the forecast period. Each of these parent companies have brands that are more focussed on a specific subsector, be it fashion, automotive, or design, etc. These specialisms allow the parent companies to further differentiate themselves from the more traditional hotel brands.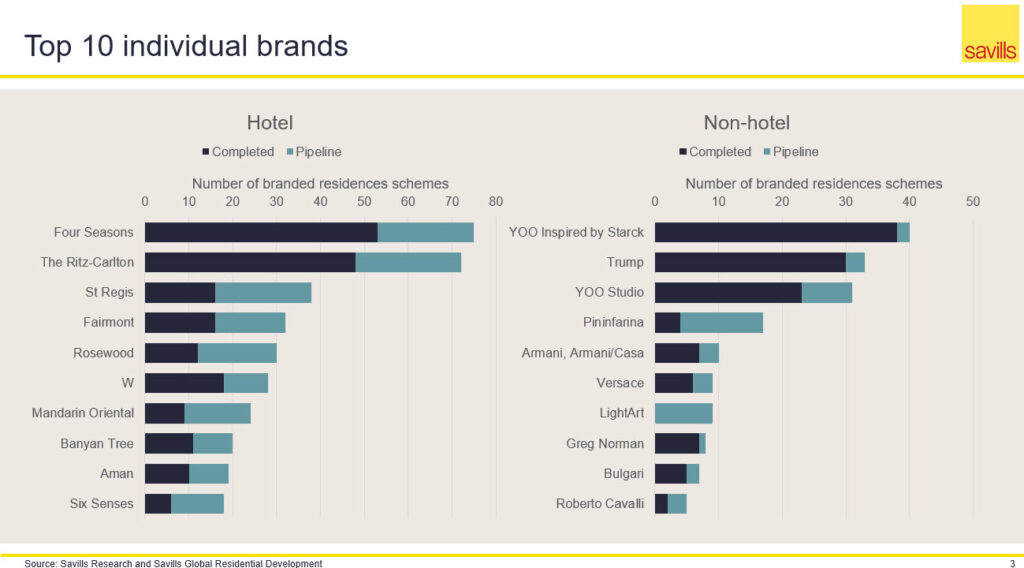 Just as the parent companies must differentiate themselves while maintaining growth in an increasingly crowded landscape, so too must the individual brands in order to attract buyers. For hotel brands, the top three spots are occupied by Four Seasons, The Ritz-Carlton, and St. Regis. Four Seasons and The Ritz-Carlton have been competing for first place in the rankings for years, and 2022 marks the first year that Four Seasons has clinched the top spot for hotel brands. Of the top three hotel brands, St. Regis has the largest pipeline with the brand projected to increase its supply by 138% by the end of the forecast period. St. Regis is not alone in its significant expansion plans; of the top 10 hotel brands, five have pipeline growth figures of over 100% and a further two have pipeline growth of 90% by the end of the period. Further down the table, many other hotel brands such as One&Only, Swissôtel, Grand Hyatt, and JW Marriott, among others, have pipeline growth over 150% for the forecast period, over the next 5 years. By contrast to the hotel brands, most non-hotel brands have fewer than 10 schemes in operation. YOO and Trump, the latter considered as non-hotel brand for the purpose of this report, are the exceptions to this trend, however, as they have been active in the branded residences sector for significantly longer than other non-hotel brands. Non-hotel brands tend to emphasise their differences from the hotels and focus much more on integrating elements of their specific brand via design, lifestyle, or amenities. Projected pipeline growth for most non-hotel brands is strong, though most are growing from a low base. These nonhotel brands often do not have the same depth of development infrastructure, from staffing to development support, compared to traditional hotel brands and cannot gain from the benefits of co-locating themselves with an affiliated hotel where complementary amenities, facilities and services can be shared across users.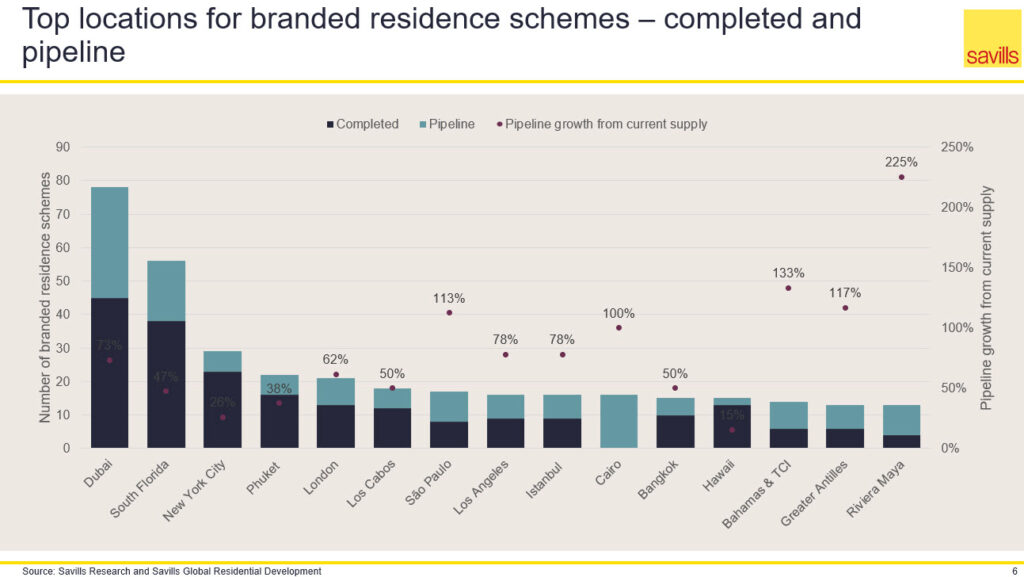 There is an increasing variety of brands in the non-hotel segment, even if the growth of the segment is slower than other chain scales as the total supply increases over the pipeline period. From the established players in design, fashion, golf, and wealth brands to newcomers from automotive, music, and art brands, such as the recent announcement of Louvre Residences in Abu Dhabi, the growth of non-hotel brands demonstrates that buyers do not appear to be limiting themselves to classic hotel offerings. Fast-growing economies such as Brazil, United Arab Emirates, and India are leading the table for non-hotel pipeline, with each country forecast to see non-hotel brand scheme growth of more than 70% from current supply levels. The lifestyles offered by these non-hotel brands, and the fact that there are fewer residences in existence, provide the perfect combination for trophy assets for the growing number of wealthy individuals globally.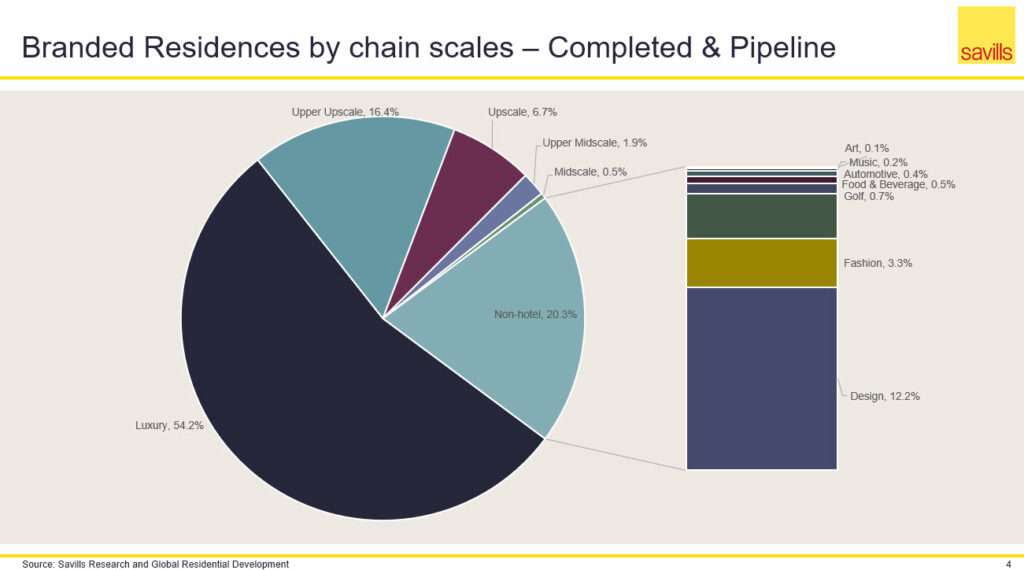 What do the brands say?
In the wake of the pandemic, people's needs for their homes have shifted dramatically compared to 2019. People continue to spend a larger share of their time at home, especially as hybrid work continues to be a driving trend for the workforce. Branded residences are quickly adapting to these new needs. "This means more personalised, spacious, and private accommodations, with both indoor and outdoor areas, in which they can dedicate different spaces to working, relaxing, visiting, etc.," says Brad Berry, Vice President, Global Residential Development for Rosewood. With the stresses and pressures of everyday life, Jonathan Tomlinson, Senior Vice President, Private Homes, Kerzner International, has found that travellers are increasingly wanting to "spend their time away recalibrating, focusing on their wellness, and finding balance. The brand offers both bespoke programmes such as tailored nutritional menus, fitness schedules, targeted spa treatments, stress-relieving activities along with a performance-focused brand, SIRO, which puts fitness and wellbeing at the core of the residential experience." James Price, Vice President, Residential, EMEA, Four Seasons Hotels and Resorts, adds, "To harness the power of sustainability and innovation, the experience begins at the design phase and goes far beyond the obvious health and wellbeing inclusions such as fitness centres and pools. Also, through strong partnership with our development partners, architects, sustainability consultants, and interior designers, we can ensure that design standards are met across new projects while also reducing the impact on the planet, optimising space planning and offering amenities and home features intended to encourage healthy lifestyles, relaxation, and connection."  As these trends continue, the branded residences sector will only continue to attract new and returning buyers. Jeff Tisdall, Senior Vice President Development, Residential & Extended Stay at Accor adds, "We expect the category to continue to evolve rapidly. Technology will be a big driver of this change as the urgent need and demand for environmentally responsible housing accelerates. Service technology will also be a big part of the story and we are working hard to expand and fully integrate our residential platforms with our loyalty, recognition and reservations systems, enabling Accor and Ennismore to recognise the VIP status of our residence owners wherever their travels take them.
Branded residence price premiums
The affiliation of a luxury brand to residential product, through the associated quality, design, and service that differentiate those brands, often provides the incentive for buyers to pay a premium for these qualities. Existing brand awareness can increase the profile of a branded residence scheme and can attract larger amounts of interest, and thus buyers, to a project. Savills analysis shows that the average global premium for branded residences, over a comparable non-branded product, stands at 30% on an unweighted basis. It should be noted that these premiums do vary significantly by location, brand, and type of scheme. In our region, our research shows that branded residences command a price premium of at least 35% across all properties in this model. The highest brand premiums can be found in emerging markets, where luxury brands appeal to growing numbers of high net worth individuals. Schemes in these locations can command an average premium of 54% compared to nonbranded stock. In markets where few to no branded schemes exist, a branded project can achieve pricing double to that of comparable non-branded stock.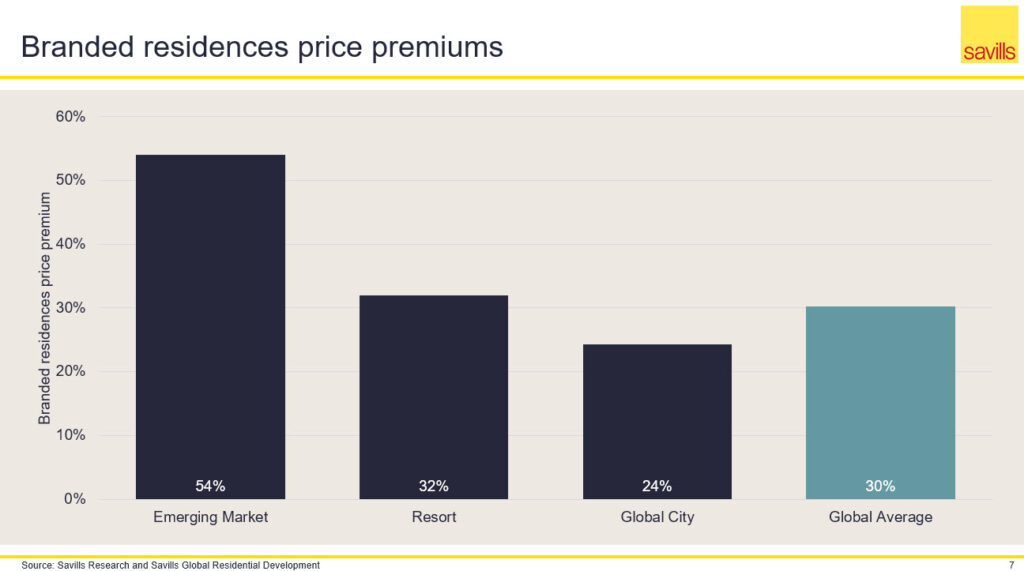 We expect demand for the branded residence product to become significant in our region from this point forward, following on from the very strong performance of the schemes delivered to date, the benefits for developers in releasing capital and more importantly, to allow developments to compete equally with each other. This demand may be partly domestic, as mobile customers value a seamless, reliable management of their properties, but we believe that it will be mainly underpinned by the growing HNWIs community globally and their aspiration to spend time in multiple destinations. Demand from international buyers is also likely to grow in accessible resort destinations to support demand from major cities with high concentration of wealth. After a number of years of evolution, the branded residences sector has proven resilient and adaptable to adverse market conditions, offering security and reliable quality to buyers and attractive returns to developers and brands. With a robust and geographically diverse pipeline, as well as the continued commitment to the sector from developers and brands, the sector is set to continue to expand in the near term and our region is set to take advantage of this demand.
NOTE: Elements of this feature have been copied, with thanks, from the latest Branded Residences report by Savills. The full Savills report can be found on www.savills.com