Travel
Ski Resorts of Montenegro – Welcome to Winter Magic
Ski Resorts of Montenegro, more precisely its Ski Centre Kolašin 1600 represents a crown jewel, the heart, and the engine of tourism development and general development in Northern Montenegro. From the moment when Ski centre Kolašin 1600 was officially put in operation until today, we have made huge progress as a ski centre in general and as a driving force for the development of every other area in the northern and mountainous part of Montenegro.
Located in Kolašin, at one of the most beautiful mountains in the region – the Bjelasica Mountain, Ski Centre Kolašin 1600 is a perfect spot for winter lovers and those who just want to take a quick stroll along the walking areas at the site or sit back in a cosy restaurant and enjoy their cup of tea or glass of wine.
As a company that tries to get the best out of every season, we are expecting a successful winter season with a record-breaking number of guests and hopefully enough snow to fulfil all our expectations, ideas and plans.
The summer season was very busy and we made very good progress when it comes to new developments. We would like to emphasize that we upgraded our everyday offer at the Ski Centre, added plenty of new stuff in the playground for our youngest guests such as a ping pong table, piccado, table football and finally, we installed our first tubing track that was a great hit at our Ski Centre. When it comes to outdoor amenities – our brand-new additions – archery and paintball terrains were the most desired activities by both individuals and organised groups. Another brand-new addition to Ski Centre Kolašin 1600 is the ski magic carpet lift. It was installed during the previous winter season and now, aside from it, two tubing tracks are available for unforgettable moments with our youngest visitors.
We hosted a lot of events during summer, including the 3×3 Basketball Tournament, Teqball Tournament, and a concert of the very popular singer Željko Samardžić who brought new energy to our Ski Centre in the summertime.
To support this year's winter season there is a new six-seater chair lift K7 (Klisura) that was installed only in late February, so we expect to use its full capacity this season with an additional 10 km of ski trails added to the existing 10.5 km of ski trails at Ski Centre Kolašin 1600 of all difficulty levels. The starting point of the Klisura K7 chair lift is at 1450 meters above sea level and it is located at the base station of the neighbouring Ski Centre Kolašin 1450. Having that in mind, Kolašin now has one of the largest ski areas in the region – with the two ski centres connected with trails and chairlifts, there are 45 kilometres of ski trails available for non-stop skiing and boarding, which puts Montenegro on the map of serious winter sports places for adrenaline junkies!
Apart from the opening of the extremely important Klisura K7 six-seater chair lift, the standard offer of the previous season remains, but still there will be several novelties. Namely, visitors of Ski Centre Kolašin 1600 will have the opportunity to rent a snowmobile, go for a snowshoe walk by day or by night, enjoy winter hiking and touring, attend ski and snowboarding schools with high-quality equipment available for rent at the spot and practice with their instructors at the area dedicated for beginners with the ski magic carpet lift. Furthermore, daily entertainment, competitions and music programs are scheduled, with eminent DJs from the region spinning records this year. Some music programs will be prepared especially for Ski Centre Kolašin 1600. The atmosphere at the Ski Centre will be warmed-up by different celebrations which will make the winter at the Ski Resorts of Montenegro unforgettable and put Montenegro side by side with regional mountain centres.
At the Ski Centre, like every year, we will have several ski schools that will be providing their services. From this season, the guests of Ski Centre Kolašin 1600 will also have professional ski and snowboard maintenance and repair services offered. Also, the ecological aspect should not be forgotten – we have installed built-in containers for waste management which are integrated with the landscape. The price list for the upcoming season is already available on our website www.skijalista.me and prices have been just slightly changed in comparison to last year, but the capacity of skiing infrastructure has been significantly expanded.
We should mention here the importance and impact of the new highway during the summer season and especially the importance it has for the upcoming winter season. Just in 45 minutes of a smooth ride, you will be able to reach Ski Centre Kolašin 1600 from the capital city of Podgorica. That is a major upgrade, which means that guests can stay in Podgorica and ski in Kolašin in less than one hour of a driving distance.
As for guests, we rely on those from the region, mainly from Albania, Bosnia and Herzegovina, and Serbia, and this year we are expecting an inflow of guests from North Macedonia, Hungary, Slovenia, France, and Croatia.
This period of the year is reserved for the enthusiasts that experience winter together with us, so as it has been our tradition for years now, we have organised promo sale of season ski passes. The campaign exceeded even our most optimistic predictions and generated record-breaking revenues. Now we can guarantee with certainty that the upcoming season will break all records when it comes to the number of visitors and the level of satisfaction that they will take back with them once the season is over. The Ski Resorts of Montenegro is constantly upgrading and adding new services to its offer and it is with great pleasure that we can announce that we have established cooperation with numerous ski centres in the region. This cooperation allows each holder of the season ski pass of the Ski Resort of Montenegro to ski free of charge for three consecutive days at the following ski centres:
– ski centres that are part of the Ski Resorts of Serbia (Kopaonik, Tornik, Stara Planina and Brezovica),
– Olympic Centre Jahorina (Bosnia and Herzegovina),
– Ski Centre Popova Shapka (North Macedonia),
– Ski Centre Bjelašnica (Bosnia and Herzegovina), and even more to come in the following days.
These contracts are based on the principle of reciprocity, which means that the owners of the season ski pass from the aforementioned ski centres can ski free of charge for three consecutive days at the following Montenegrin ski centres: Ski Centre Kolašin 1600, Savin Kuk and Vučje.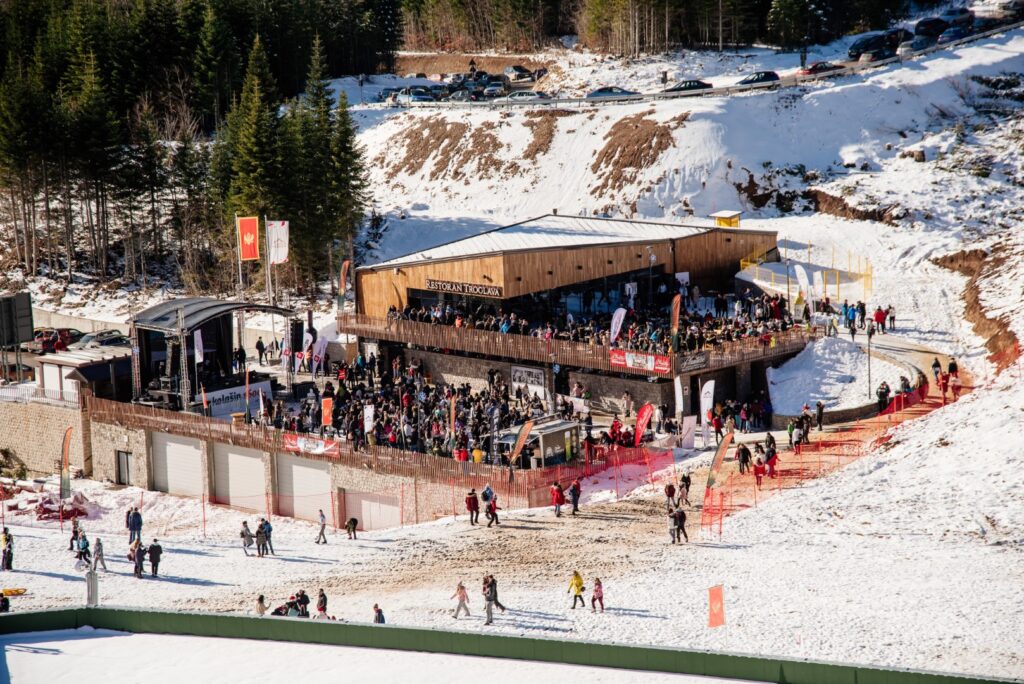 We have expanded our parking capacities and Ski Centre Kolašin 1600 is welcoming visitors with 500 parking spaces in total. In addition, in cooperation with the Local Tourism Organisation of Kolašin and the Municipality of Kolašin, we are planning to organise shuttle buses which will be operating several times during the day, so that guests can commute from the town centre of Kolašin to both ski centres (Kolašin 1600 and Kolašin 1450) and back and leave their vehicle at the place where they are staying and forget about traffic jams.
When it comes to the points of sale of ski passes, we have upgraded our IT system, so aside from the additional point of sale at our Ski Centre Kolašin 1600, we will add one point in the centre of the town of Kolašin and some more throughout Montenegro. Customer satisfaction is of crucial importance for us, so we are constantly improving every aspect of their experience at the Ski Resorts of Montenegro. We did not forget an important practice in worldwide ski centres: online purchase of ski passes and we are working very actively to have it available as soon as possible.
Another area will be freshened-up – we will be introducing a shop corner – a sales area where it will be possible to buy souvenirs and other items referring to our Ski Centre, as well as local homemade products. We are striving to create an all-around shop with numerous and diverse products, and the design for some of the products has been created by our youngest visitors during a creative workshop this summer.
A few days ago, the Halal Standard started to be implemented at the Ski Centre Kolašin 1600 restaurant Troglava, which will be important for many visitors who apply these standards for religious or health reasons.
With everything that has been said, we can conclude that Ski Resorts of Montenegro is fully prepared and is expecting the coming winter season in great spirit and hopefully, we will show why Ski Centre Kolašin 1600 is the epicentre of great skiing activities and top-notch entertainment programs.
Welcome to Kolašin and welcome to Ski Centre Kolašin 1600!
Ski Resorts of Montenegro: +382 20 223 881
Ski Centre Kolašin 1600: +382 63 444 555